Z.1 Z-Line Fold Pedal
€Ab 199.95 €
Platform folding pedal for bikes and e-bikes
· Compact in folded state
· Easy, intuitive operation
· Lowered tread to the zero line
· Non-slip Grip Tape
· Allowable rider weight: 150 kg
MSRP from 199,95 €
NOTE DELIVERY Z.1 Z-Line Pedal:
The Z.1 Z-Line pedal from by,schulz is not yet available on the market until further notice. Due to the interruption of parts of the supply chain, as well as bottlenecks in production, it is currently not possible for us to manufacture the by,schulz Z.1 Z-Line pedal.
Delivery time on request.
Description
The fancy design of forged aluminum combined with a large central bearing, allows the lowering of the tread to the zero line of the pedal axle. This results in a unique, pleasant and fatigue-free pedaling.
For added comfort, the generously sized tread surface with high-quality non-slip Grip Tape. Furthermore, thanks to the lowered tread surface, the user can also lower the saddle, which promotes better ground contact and more secure footing when stopping.
When folded, the folding pedal requires extremely little space with about 27 mm, is fixed to the crank and adjustable. After unfolding, the pedal automatically swings out and is immediately ready for use.
The pedal designed for bicycles, e-bikes and compact bikes is tested according to DIN EN 4210 with increased test load, and approved for 150kg rider weight.
Of course, the pedal is secured by a sophisticated mechanism against accidental folding away while driving, and still very easy to use.
Technical data
Pedal type: Folding pedal with zero line, one-sided tread surface
Pedal body: Aluminum, AL-6066-T6
Bearing housing: Aluminum, AL-6061-T6
Colour: >Black anodized
Tread surface (W x L): approx. 110 x 90 mm; Griptape 3M
Pedal axle: 9/16 inch x 20 TPI thread, 6 mm hexagon socket, chromoly steel
Pedal bearing: Central double row angular contact ball bearing
Folding mechanism: with IGUS plain bearing
Weight: approx. 805 g / pair
Dimensions folded out (W x H x L): approx. 130 x 26 x 90 mm
Dimensions folded (W x H x L): approx. 28 x 130 x 90 mm
Driver weight: max. 150 kg
StVZO compliant
Function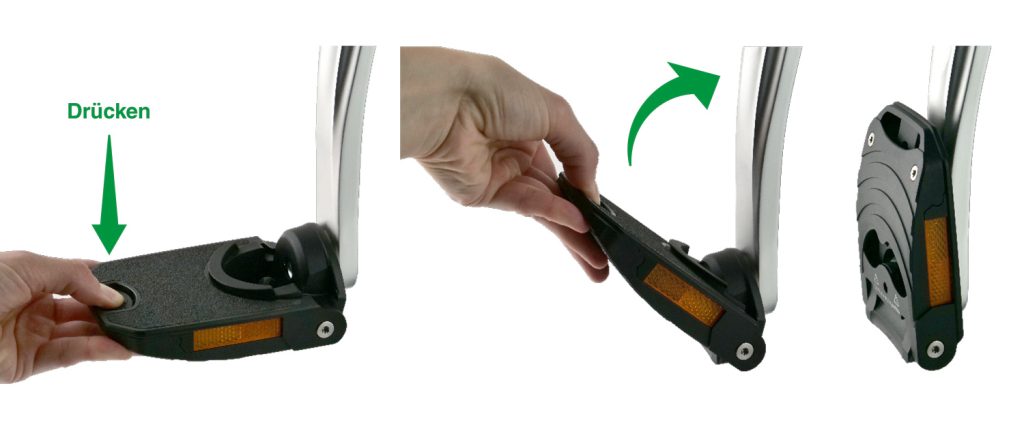 Video
Tech. Data
Pedal type: Folding pedal with zero line, one-sided tread surface
Pedal body: Aluminum, AL-6066-T6
Bearing housing: Aluminum, AL-6061-T6
Colour: >Black anodized
Tread surface (W x L): approx. 110 x 90 mm; Griptape 3M
Pedal axle: 9/16 inch x 20 TPI thread, 6 mm hexagon socket, chromoly steel
Pedal bearing: Central double row angular contact ball bearing
Folding mechanism: with IGUS plain bearing
Weight: approx. 805 g / pair
Dimensions folded out (W x H x L): approx. 130 x 26 x 90 mm
Dimensions folded (W x H x L): approx. 28 x 130 x 90 mm
Driver weight: max. 150 kg
StVZO compliant
Function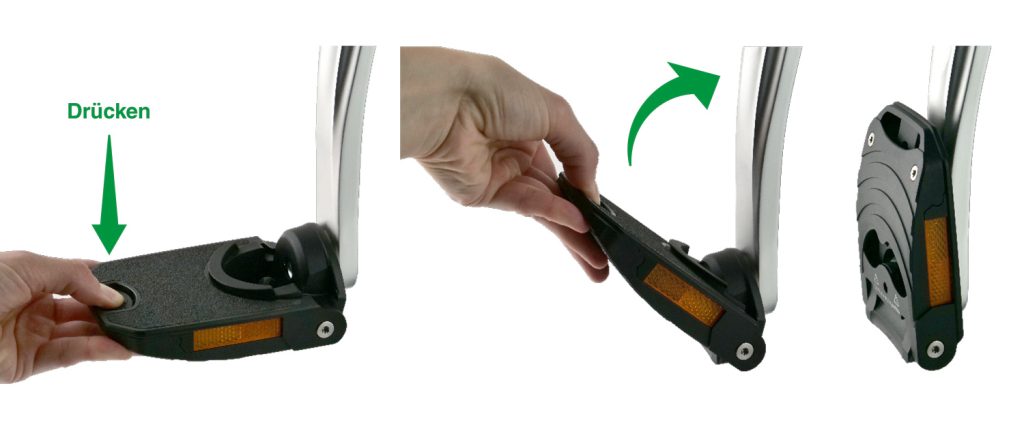 Video