This is the page where we provide you with all the press releases about our company. You will find here various articles, test results and awards that concern us and give you information about us and our company.
Product innovation 09/2021
The company by,schulz presented at Eurobike 2021 with its novel Z.1 Z-Line a folding pedal that will set new standards.
by,schulz Cooperation with Bone Collection
In a cooperation between by,schulz and Bone Collection, the Phone Tie Connect and the Bike Tie Connect Kit were created. The clever smartphone holders are designed in the by,schulz style for safe, quick and tool-free mounting and removal of smartphones on the handlebar or stem of the bike.
VSF all-ride Quality seal 2020-2023
Ourspring loaded G.2 seatposts have been awarded the VSF all-ride seal of quality.
Suspension seatposts can be a real help: The more upright the riding posture, the more road shocks put strain on your back and spine. Suspension noticeably increases riding and sitting comfort and prevents discomfort…
RADMARKT 4/2019: "Vorbau im Neubau"
This article from 16.11.2018 by RadMarkt on their website https://radmarkt.de/nachrichten/byschulz-wachstum-erfordert-umzug is about the fact that our company keeps growing and therefore has to move to new and bigger premises. Text and photo are from Jo Beckendorff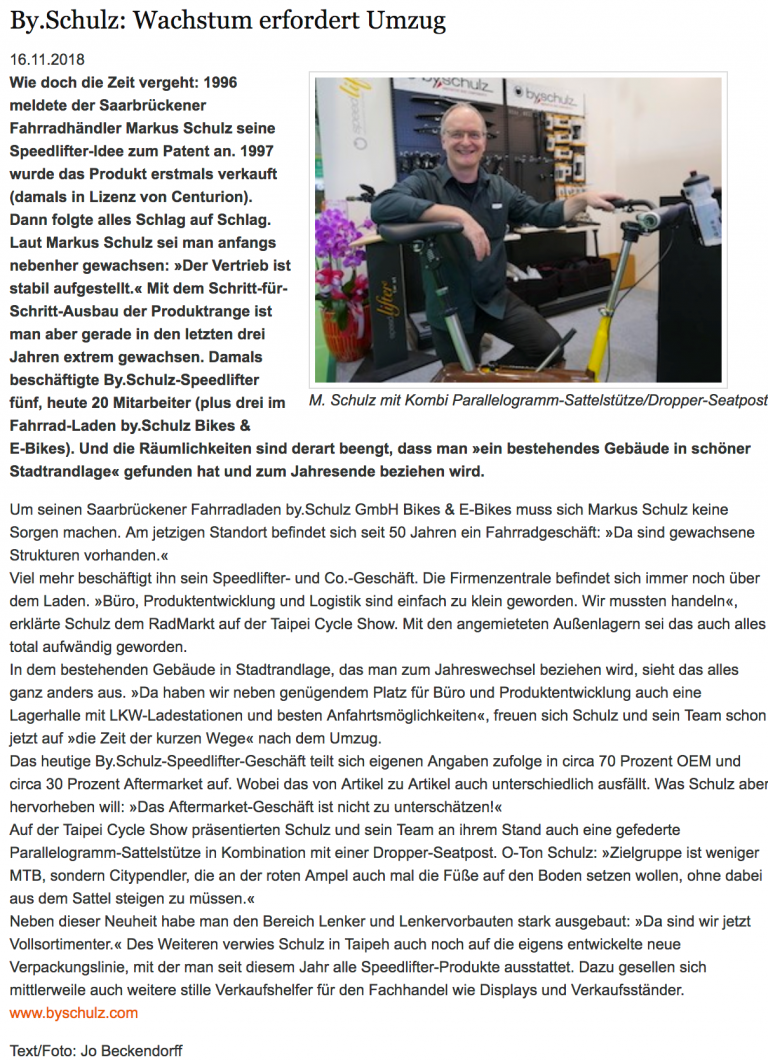 RADMARKT 16.11.2018: "Growth requires relocation"
This article from issue 4 2019 of RadMarkt is about the development of the company by,schulz and the products. Furthermore, our company is looked at a little closer.