Saddle clamps 7mm G.2 + D.2 – hexagon socket M6
€Ab 31.95 €
MSRP from 31,95€
· For G.2 + D.2
· With M6 hexagon socket screws
· For saddle frames with 7mm diameter
· Set price for 1 pair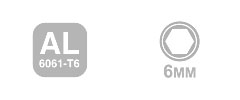 Description
Standard saddle clamp for a saddle rail with Ø 7mm on a G.2 and D.2 post. Always use the appropriate saddle clamp to the corresponding saddle rail.
Note: There are a few saddle rails that have a Ø of 8mm.
Never combine Ø 8mm clamps with a Ø 7mm saddle rail or vice versa.
Saddles with oval saddle rails must not be used.