This is the page where we provide you with all press releases about our company. Here you will find various articles, test results and awards that concern us and give you information about us and our company.
Aktiv Radfahren 9-10/2018:
"Just let the feathers fall!"
This article from aktiv Radefahren is about a test of suspension seat posts from various companies, including the G.2 ST and LT models of our company. The test deals with different criteria such as price, comfort and weight. We are proud to say that our G.2 LT is one of the test winners. Furthermore, you will find some tips and tricks to take care of your seat post and install it in your bike. The article is written by Sebastian Böhm and the photos are from Sebastian Böhm and Urs Golling.
With the exception of By. Schulz, all manufacturers use Allen screws. But the Torx would be much more stable and durable.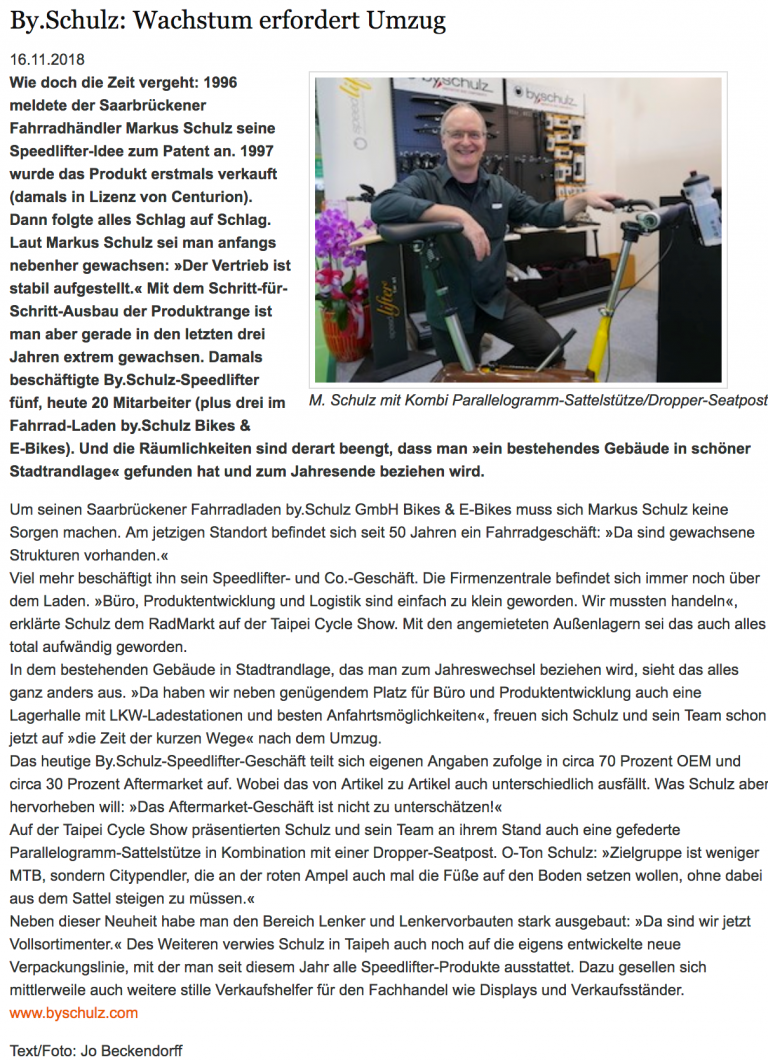 RADMARKT 16.11.2018:
"Growth requires relocation"
This article from 16.11.2018 by RadMarkt on their website https://radmarkt.de/nachrichten/byschulz-wachstum-erfordert-umzug is about the fact that our company continues to grow and therefore has to move to new and larger premises. Text and photo by Jo Beckendorff
Offices, product development and logistics have simply become too small. We
had to act
RADMARKT 4/2019:
"Vorbau im Neubau"
This article from issue 4 2019 of RadMarkt deals with the development of the bySchulz company and its products. Furthermore our company is looked at a little closer.
The breakthrough came in 2006 with the
Speedlifter Twist, which, besides the tool-free handlebar height adjustment
the additional benefit of the space-saving
rotation function. That was the door opener to the OEM.
12. February 2020
A new diameter has arrived. The G.2 ST 25,4mm is now new in our range. The parallelogram suspension seat post has our usual quality in the […]